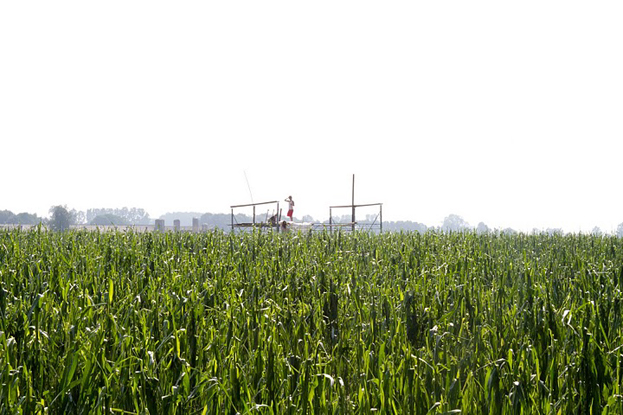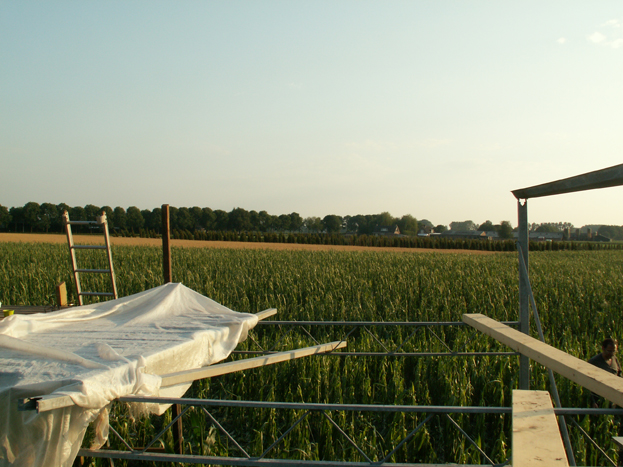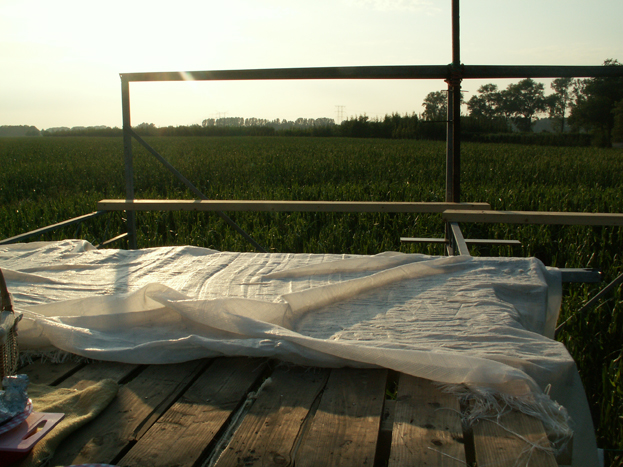 (((, 2010.
structure et textile de serre, planches en bois, fils, échelle / 6x4x6m
projet réalisé avec Charlotte Louen à Best (NL) dans le cadre d'une résidence lors du festival Landkunst 2010.
www.landkunsthagelaar.blogspot.com
www.landkunst.nl


How to
-be with the others
-stay in the present time : keep ourselves alive
-inhabit the world
Do we really need a structure To Be ?
What are the fences for ?
The perfect non-architecture
an architecture of the "in between"
a place where present time and eternity meet
the only protective thing we would need

The work " ((( " was built in Best and refers to two buildings in the area by its dimensions and building materials : to a wooden shed in another cornfield close to this one and to a greenhouse on the farm where we stayed. During the time of residence and realization, observing and improvising have been the most important ways of acting. The process of forming ideas and making work was to be as open to life as the resulting work itself : an architecture of the possible. The displacement of the floor (2 meters higher than usual) makes the building float above the corn, which could evoke another sense of time for visitors who ascended the platform.
We aimed to leave ((( as a sketch, like something drawn in a sheet's corner, a structure built very spontaneously in three days, with the life around, and where the most important part is to be lived by the visitor.
The work is one of three realized in different places. The two others have been made in Remagen (D) and Caucalières (F), the places where the artists come from, in collaboration with Friedrich Louen (D) and Pierrick Lacord (F).




pour la première photographie : © Photographs: Bob Driessen, Stinkfinger producties / Eurolandart, BKKC